Recorded online course - Total Hip Arthroplasty: The Direct Superior Approach. Why, When How?
$25.00
Over the last several years, the number of total hip arthroplasties performed in the United States has increased substantially. A surgery once thought to be most successful in improving pain, but significantly limiting function, has evolved rapidly. Total hip arthroplasty has now become one of the most dramatic ways to improve quality of life for patients with hip arthritis. Recovery of THA has gotten easier, the durability of hip replacements has improved and patients are less willing to accept the limitations that accompany arthritis. This course will discuss advances in total hip arthroplasty as they relate specifically to the use of the direct superior approach. Dr. Gustav Fischer of Multnomah Orthopedics will discuss what the direct superior approach is, why he uses it and what the implications are for rehabilitation.
Speaker biography
Gustav Fischer, MD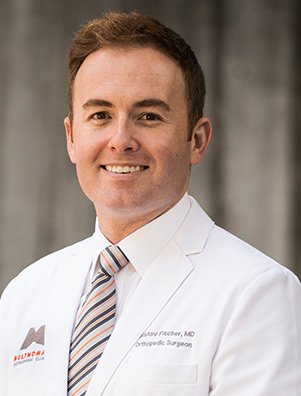 Dr. Gustav "Gus" Fischer is a board certified orthopaedic surgeon with a subspecialty interest in arthritis and joint replacement surgery.  His practice is geared toward individuals of all ages who are seeking to reduce pain and return to an active lifestyle.
Dr. Fischer uses state of the art techniques to diagnose and treat arthritis, fractures, tendon/ligament injury, and failed joint replacement.  Care is tailored to everyone's needs, goals, and expectations.  Treatments include nonoperative pain relief, joint preservation, arthroscopy, partial joint replacement, total joint replacement, and advanced joint reconstruction.
Dr. Fischer is proud to practice in Oregon and be a part of the Portland community.  His interest outside of work are many, but inevitably revolve around his family and closest friends.
Education and Training
Undergraduate - Biology - Oregon State University
Medical Degree - University of Nevada School of Medicine - Reno/Las Vegas, NV
Orthopaedic Surgery Residency – KU School of Medicine - Wichita, KS
Fellowship in Adult Reconstruction – Cleveland Clinic - Cleveland, OH
Affiliations
Member – American Academy of Orthopaedic Surgeons
Member – American Association of Hip and Knee Surgeons
Member – Oregon Association of Orthopaedic Surgeons
Member – Oregon Medical Associatio
Course Objective(s)
At the end of this course participants will be able to:
Describe the direct superior approach for THA
Identify rehab priorities for patients post op THA
Prepare patients for long term success after THA
Recognize patients who may benefit from a referral to an orthopedic surgeon to consider THA
Course Outline
What is the prevalence of THA?  Why has it become more common?
What is the direct superior approach?
Why the direct superior approach?
Who is appropriate for the direct superior approach?
Discussion of post op rehab
Q&A
Location
Recorded Zoom session. 
Registration Information
Target Audience: Physical Therapists and Assistants providing rehabilitation to patients after total hip arthroplasty.
Registration Fee: The registration fee is as follows: 
$10 for Providence employees, $25 for all other participants. Registration fees cover access to recorded zoom session, electronic certificate of attendance and electronic course handout.  
Refund Policy: Once you have purchased this course you will have immediate access to all the course information.  No refunds will be issued. 
Contact Hours: This course qualifies for 1 contact hour for Physical Therapists and Physical Therapy Assistants in Oregon, Washington and New York.  This course may qualify for CE credit in additional states with approval.  Please email rehab.courses@providence.org if you are interested in obtaining CE credit in another state. Certificates of attendance will be issued to all participants completing the CEU requirements.